West End Women and Girls Centre is at the frontline – fighting for women and girl's rights to live in a fair society, that values them and gives them all the opportunities they deserve.
Join us and help us to continue making a difference to women and girls lives. You can donate to any of the projects and receive vouchers to give as presents to your family and friends.
Women are the heart of our communities, they nurture, care, teach, love and stand by you. Let's stand by them.
Make a one-off donation, give regularly or sponsor a session
Donate
If you want vouchers in return for your donation please contact us by email or phone.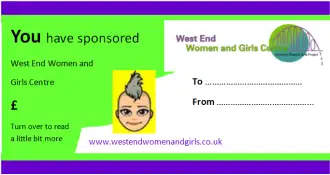 Fundraise for us when you shop online – click the images below for info:
Mrs Robinson Fund
Women are struggling to feed their children, light and heat their homes. This is happening for many reasons, zero hour contracts, low wages, welfare benefits changes and delays to payments, bedroom tax and changes to benefits for the sick, those with disabilities and mental ill health.
The fund is named after our longest standing member who sadly passed away in 2016. Mrs Robinson was very generous and would always donate money to the centre and other local charities even when her need was greater. We are asking you to be as generous as Mrs Robinson and donate money to the centre in her name that we will distribute to families in need.