We have a Farm in the wilds of Northumberland! A space for women and girls to grow and harvest together, have fun and be free.
In December 2021 we took on a National Trust long-term lease for a 10-acre smallholding in rural Northumberland for our members, with a farmhouse, loads of outbuildings, a massive barn, a 30 metre polytunnel and two big fields!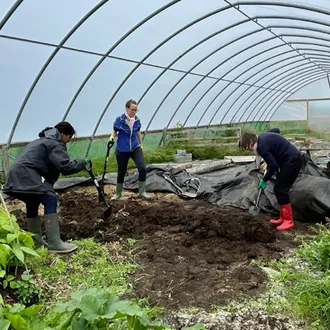 We run Women's Farming sessions twice a week and Girls Farming in the school holidays, bringing women and girls up from Elswick in our minibus to have fun, look after the animals and work the land together.
Over the last year we have installed compost toilets, grown healthy, organic food in our 30 metre polytunnel, installed rainwater systems, planted 600 native trees and hedgerows (thanks to The Woodland Trust and our supporters), brought 35 rare breed sheep and lambs onto the fields, collected loads of eggs from the hens, planted an apple orchard with support from People's Trust for Endangered Species (PTES) and created a campsite and firepit for our girls summer residentials. In 2022 we brought over 1,000 women and over 300 girls to the farm from the West End of Newcastle.
Over the next 12 months we plan to:
• Bring up women and girls from Elswick to the farm twice a week and in school holidays.
• Run regular open women's volunteer days every week – get in touch if you're interested!
• Start converting the fields into veg/crop plots to produce more lovely, organic food to be distributed free to women and their families in the West End.
• Build an animal shelter so we can provide a home for dairy goats and donkeys.
• Build an outdoor wood fired pizza oven.
Thank you so much to our current funders for enabling this work to happen – The Finnis Scott Foundation, The JJ Charitable Trust, The Newcastle Building Society Community Fund and The Local Environment Action Fund (LEAF) at the Community Foundation and Social Farms and Gardens.